40-db-Pad
A db pad is a passive circuit that helps match impedances of different devices by lowering the dB output in order to avoid overloading and distortion. Here you will find out how easy it is to make a 40-db-pad. You may have device such as a camcorder with a external mike input. Some of the older models have a built-in pre-amp. Now let's say you wanted to plug the line output of a mixer into the camcorder. No mater how much you lowered the volume, the sound would be distorted. The level would be mismatched  The built-in mike sounds OK for general video but what if you wanted to record yourself with a previously recording backing track. What if you wanted to record a gig using the house mix with a couple of addition mikes and record a basic video too? You can use a camcorder as a stereo master recorder with a basic static video shot. The question is how. Well I had this problem. So I found that I needed a attenuation pad. Radio Shack sold a 40 db attenuation pad. It wasn't too expensive but it was monaural. So I set about designing my own. Using some design equations and simulation software, I designed a T-Pad that dropped the sound approximate 40 db. I tried it and it worked.
I then made two, one for the left channel and one for the right. I was able to fit the three resistors into the socket cover. Use ¼ watt or 1/8 watt resistors. This should work wherever you need to use a line level signal into a mike level jack. You could plug a line level output into a guitar amp for example.
Sometimes you may want to plug a line level device into an input that is made for a microphone or guitar. This will not work well. Guitar and microphone inputs need to be amplified because of their low-level output signals. Simply trimming the level with a pot maybe OK but usually is not. You need to match the impedance. Don't ask, impedance is a subject for another day. My issue was that I was trying to video tape myself playing and singing but did not like the sound being picked up by the built-in mike. I wanted to sing into my mixer with effects and tape it.  The solution is a Pad.
Construction.
It is easy to fit all three 1/4 watt or 1/8 watt resistors inside the cap of the RCA connector. I stripped off a bit of wire insulation and covered the exposed resistor leads to keep them from shorting against the connector contacts. For stereo you'll need to make two pads.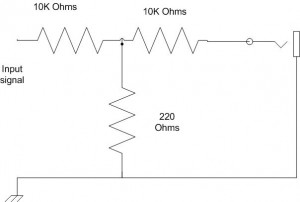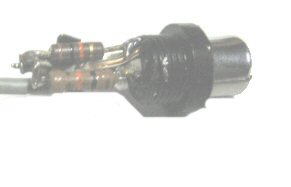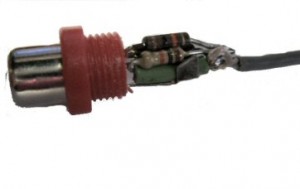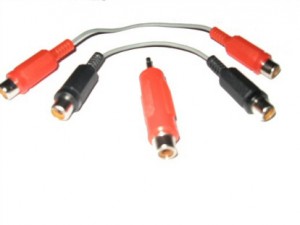 This is the finished pads alongside the Radio Shaft 40 db mono attenuator. You can build these into any type of connector such as XLR or phone.