Beatles Fab Gear  presents a history of the instruments used by the Beatles during their career.  We are not going to concern ourselves with the earliest instruments that the Fab Four owned. Most of them were cheap and hardly playable. Here are the guitars and amps that they used professionally. If you want to know more, I urge you to buy a book by Andy Babiuk titled Beatles gear currently in its 3rd edition.
In early Cavern days the boys used these instruments. John had his Rickenbacker 325 , Paul an earlier version of the Hofner 500-1 and George his Gretsch Duo-Jet . For some strange reason both pick ups on the Hofner were towards the neck.
The Amps were Vox AC-15 and later AC-30s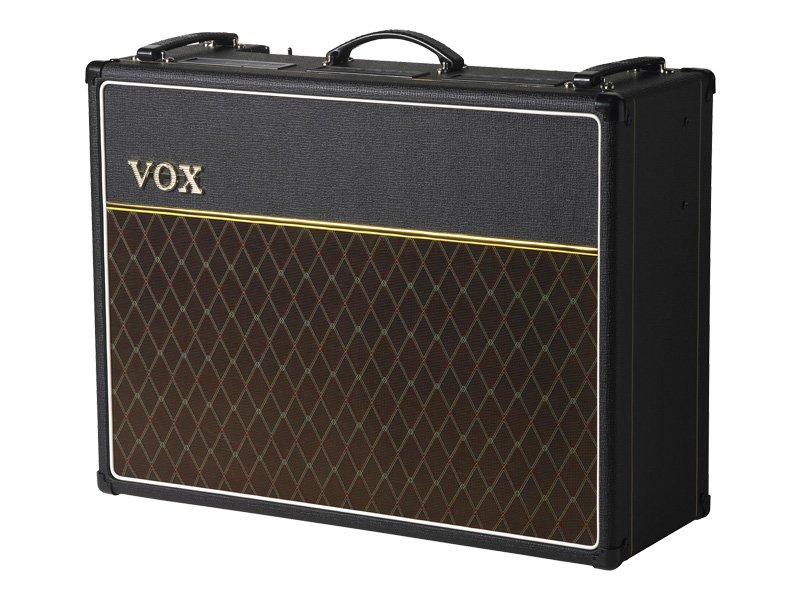 Later on they used the Vox Continental organ on songs like I'm Down.
At the time of the February 9th 1964 Ed Sullivan show, these are the guitars they played.
On Feb 9th we saw John's  natural finished 325 was now painted black. Paul had his newer Hofner 500 with the pick-ups spread apart. George has a Country Gentleman. BTW George had two country Gentlemen at one time. One ended up being destroyed. Both of George's Gentlemen had the mute with the mute switches. Years later Gretsch released The Country Classic which is virtually identical but is missing the mute and the mute switches. Most Beatles tribute groups insist on having the mute even though they were probably never used by George.
The guitar pictured below was 1st seen on the second Ed Sullivan show from Miami. It was a gift to John Lennon from Rickenbacker. Rickenbacker later gave a 12 strings to George and John and a bass to Paul.

During the 1964 US tour George used his new Rickenbacker 12 string. He even used this to play Twist and Shout. Which was a bit strange but this saved him from switching guitars to play the next number "You can't do that."
By the time of the Shea stadium gig in 1965 the only noticeable change was George playing a Gretsch Tennessean.

For a more details consult Andy Babiuk's great Beatles Gear book.
Another instrument we saw on the 1965 Sullivan show was Paul's Texan by Epiphone. In the Beatles film "A Hard Day's Night", we see the Ramirez classical guitar and in "Help" the 12 string Framus Hootenanny.
During 1966 Tours, the last year The Beatles toured, we saw Both John and George playing Epiphone Casinos seen below. John George and Paul all bought Epiphones. Paul still uses his live on stage. Both Paul and George had Bigsby vibratos on theirs. John had the non Bigsby tail-piece.
George was using his new Rickenbacker  360-12 with a slighter softer look horns and the "R" tail piece.


Other instruments The Beatles used on stage include the Gibson J160 acoustic with built-in pick up and control knobs. Both John and George had these and used them on stage from 62 to 65. Later we saw John with his painted with psychedelic colors.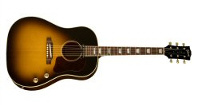 Two more instruments that are rarely mentioned with any detail are John's harmonicas. So little is know that I asked Mark Benson from "1964 the Tribute" what he used to achieve those authentic sounds.
For songs like "Please please me", "Love me do", "Chains", "There's a place", "From me to you"use a chromatic harmonica like the "Horner Chromonica" in the key of "C".  The Chromatic harmonica has a little push in lever that switches the holes so that you can play all the sharps and flats.
On "I'm a loser" and "I should have known better" Lennon used a Marine Band type "diatonic" in the key of "C".  On "I'll get you" ,  He uses a diatonic in the key of "G".
Of course for a complete John Lennon look get yourself a Vox Python strap.


The Fender strap about was the typical strap style used in the early 60's.
After they stopped touring we only got to see the Beatles in rare videos.
We saw George with his '65 Gibson SG in the Paperback writer/Rain videos. He was also seen in some rare concert photos with the SG. So he did use it on stage.
In the Revolution video we see George with a red '57 Les Paul. This guitar had some interesting history. It was apparently owned by John Sebastian of the Lovin' Spoonful, sold to Rick Derringer of The McCoys and Johnny Winter fame. It was originally a 1957 Goldtop. Eric Clapton bought it and then gave it to George.
John was later seen with his Casino looking like this after he sanded off all the paint.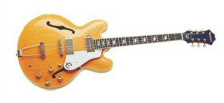 We also started seeing Paul use his Rickenbacker 4001 bass. Most tribute bands who do a Sergeant Pepper set use this type.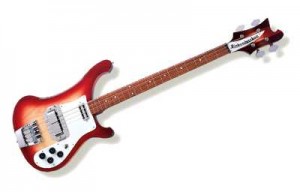 For the very last live performance on the Savile Row roof top, Paul uses his Hofner bass which he has removed the pick guard and George plays a Fender telecaster. The boys are using Fender amps. Paul's  pick guard went AWOL during the 1966 tours.

Here we have both the original lake placid blue Fender Stratocaster and what it looked like after George painted it, as seen in the Magical Mystery Tour film. Both john and George owned lake placid Stratocasters. Paul was seen using a Fender Esquire in the studio during the Sgt. Pepper sessions.
John Lennon's Rickenbackers
John 1st purchased what is now called a model 325c58 in a natural finish. The model was known as the Capri. It had a Kauffman vibrato and Rogan knobs.
The Guitar was later painted black. It is rumored to have been painted by an automobile shop. Burns knobs and a Bigsby B5 vibrato were installed. The Pick guard was gold-colored. This was seen on the 1st Sullivan show. The Bigsby vibrato came with a Bigsby bow-tie  bridge.
In 1964  Rickenbacker gave Lennon a black 325, a fire glow 1996 and a 350 twelve string version. He was see lip syncing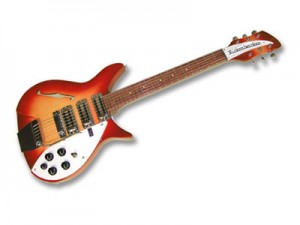 with the 12 string in Holland.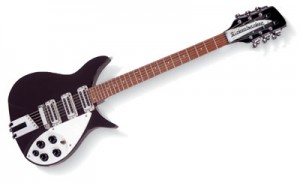 all these were 3/4 scale guitars. Rickenbacker later made a full-scale version named the 355 with the trapeze tail.
Over the years Rickenbacker made other copies and re-issues. The 350V63 with a trapeze tail, The 320 which had the R tail and had high-gain pick-ups.
The 1996 which is also a 3/4 size in fireglo with a F hole. There is a picture of Lennon standing back stage with this one. So he apparently did use that one on stage.
Here are some of the different tail pieces and pick-ups.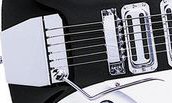 standard Toaster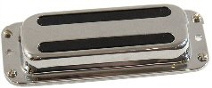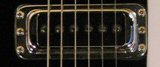 George's other guitars
George Harrison also used other guitars. Before the Beatles hit America, George had traveled there to visit his sister. He bought a single pick up Rickenbacker. Later he added a second pick-up. He appeared lip syncing on "Ready Steady Go" with this one. Red when he purchased it George had it painted black to match John's.

He was also seen with a Maton MS500. The one he used had the Bigby vibrato and the bow tie bridge. He was seen with the  Maton onstage in some rare photos.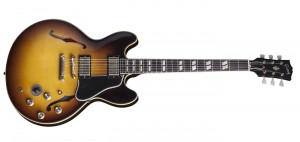 George was also seen on stage and in a few videos with a ES-345
Equipping a Tribute band that performs all the Beatles eras does cost a fortune. Sometimes it is wise to start small and if you are good, the gigs will come in and so will the money.
Then again it does look strange to see a Sergeant Pepper set with George playing a Gretsch and John a Rickenbacker, yet there are many tribute bands that have no choice.
 a budget set of Beatles instruments
First we look at the authorized low cost copies. Some are no-longer produced but may be still be found.
Hofner makes Ignition series. Epiphone made a copy of the J160, named the EJ-160. the Gretsch Electromatics line can sub for George's guitars.
---
Fender makes Squire line and there are tonnes of Fender look alike knock offs.
Epiphone makes a less expensive Casino.
Rickenbacker made or still does the 330-12 which looks a lot like the 360-12, while still expensive, does sell used for a lot less. There are slight differences. The neck on the 330 goes deeper into the body so that the neck pick-up is further from the edge of the body. The neck has dot inlays instead of the triangle-shaped inlays. There is no white binding running along the edge. The pick-ups are the high gain types and not the toasters. It has come to my attention that Rickenbacker made a 360-12 that was more like the 330-12 than not. The ones that I have seen were made in 1980. They are basically 330's with the bindings and triangular inlays. The neck was set like the 330, the pick-ups were the high gain. The tail piece was the "R" type. So without question a modified 330 was sold as a 360.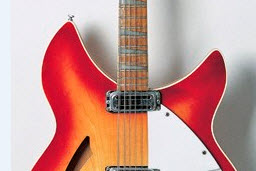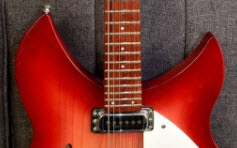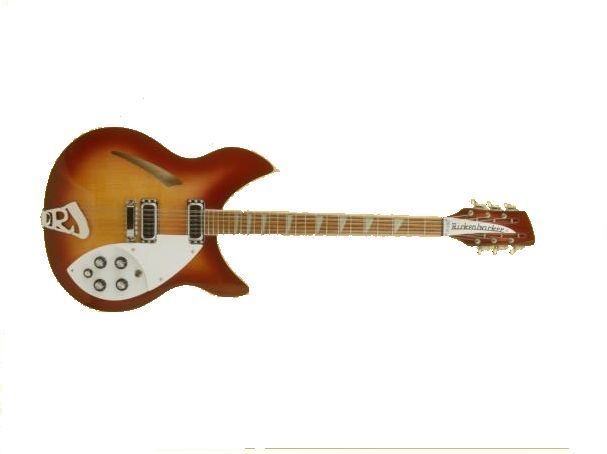 The 360's have the toaster pick-ups. The tail-piece is the "R" type as seen on the later model 360's.

Vox makes lower cost hybrid amps that could sub for AC15 and or AC-30's
One that may still be found is the VOX Cambridge 30. Today they make the AC30VR. These hybrid amps use a single tube in either the pre-amp section or in the power section. This makes for a much lighter amp.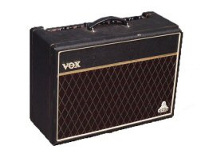 I must admit, I haven't heard these live. The demos on YouTube sound pretty well. I'm sure they are fine for a Beatles tribute.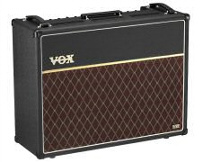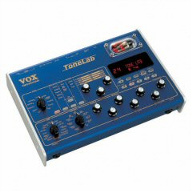 "1964 The Tribute", one of the best and longest running Beatles Tribute band use the old Vox "Tone lab" amp simulator along with light weight dummy amps to save on high airline baggage charges. Judging on their live sound, they work well. The tone lab has a 12ax7 tube in it so you do get a tube sound. There are some that say the tube is there only for show. I have one and the tube makes a difference. There are still web sites that have tone patches that you can load. Look for .tlp files.
Vox also makes a VT series but in someone infinite wisdom the grills are either made of metal or black cloth. I have a VT40+ which I have used to jam, I have yet to gig with it. It has the black cloth. There is a fellow that wrote a nice article on how to change either the metal or black grill cloths and replace them with the traditional grill cloths.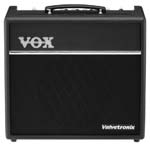 Here is an article showing how to replace the grill cloth. vox-vt30-grill-replacement  
Vox may still make the VT120+  That could look a lot like an AC30 if you change the grill cloth.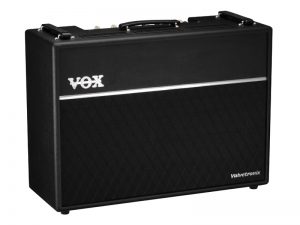 It appears that VOX doesn't want to cut into their sales on the AC15's and AC30's so they make theses models look different. Now black is cool but it's not Beatles.
The knock off Instruments.

Jay-Turser makes or has made a few reasonable facsimiles.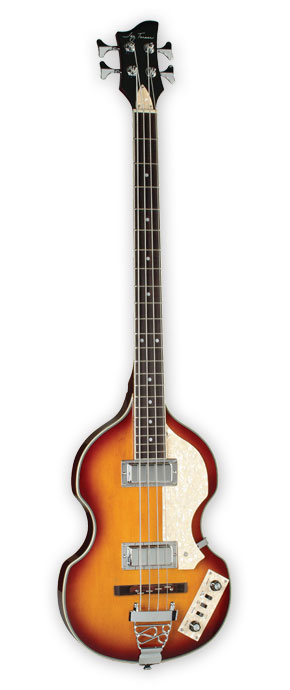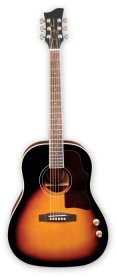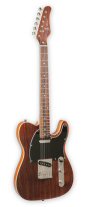 The new Eastwood Classic 6 looks more like the Gretsch 6122.

There are lots of Hofner clones out there but one has to wonder if there are not all the same. Check out the tail pieces.
Tanglewood, Vintage and Tokai have made J160 copies. Original Gibsons sell for between $2000 to $2500 US.
Beatles' AMPS
 These are the  amps they used after they signed a recording contract and the subsequent touring years.
From the early days in 1962 they were using AC-15 then AC-30's.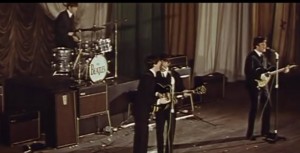 Paul Eventually got a T-60. Most Tribute bands stop here.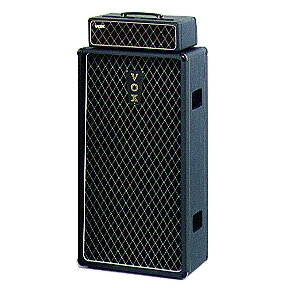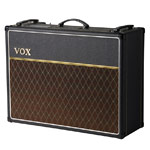 By the time the Beatles came to America they were now using AC-50's .  The AC50 used a separate head with a AC-30 style speaker cabinet. It looks like Paul was also using a AC-50 head on the T-60 speaker.
Here is another look.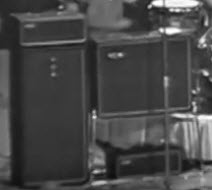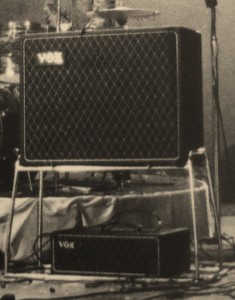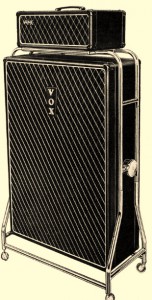 Paul was soon using a T100 cabinet with an AC100 Head.  John and Paul were also using AC100's.
The "Super Beatle" appeared later in 1966 with a head that was the same width as the speakers with  angled sides. These made amps  by Thomas Organ in the USA and were solid state. Way back in 60's and 70's solid state amps were pretty bad. If you thinking buying one, try it out first.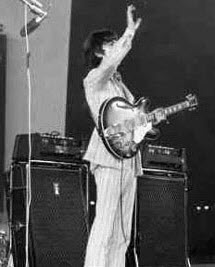 It appears that the Beatles reversed the heads as all the control knobs were on the back side. This picture is from 1966.
The Beatles played their last live performance on 30 January 1969 on the roof of their building at 3 Savile Row in London.
John and George used silver faced Fender twins and Paul used a silver faced Bassman amp.
If you are even In London, 3 Savile Row is near the corner Savile Row and Vigo street, 1 street west of Regent street.

1964 The Tribute has amassed lots of Beatle instruments over their long career. They added this page to show them off.
Although I do not condone it , the Chinese are making authentic looking counterfeits of most of the common Beatles instruments. Hofner,Rickenbacker,Gibson and Gretsch fakes can all be found at extremely low prices. Beware , some people may try to sell you a fake at a real price.
I will post more soon.