The Sheep Dogs
My musical history as told by me.When I started playing guitar my biggest influences were the Stones, Kinks and Yardbirds. My first real band (real because we got paid) was "The Sheep Dogs". The original Sheep Dogs were: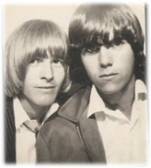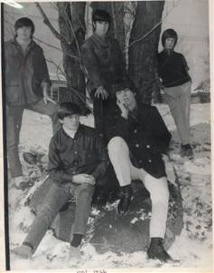 Andre Thomas on vocals , Jacques Legault on bass, Serge Chevrette on drums,Réal Latendresse on rhythm guitar & me, Stewart Atkin on lead.
Real was replaced by the late Daniel Poirier and then he was replaced by Marc Delorme.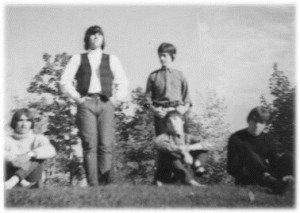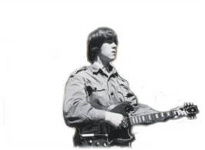 Our repertoire was about 50% Stones and the rest RnB. The lineup was 2 guitars, bass, drums and vocalist. We became the house band at a dance hall called "la Salle Ratelle" in St-Jerome. We played Friday, Saturday & Sunday nights to crowds of 400+ kids. We opened up for the likes of Les Atomes, Les Sultans, Les Sinners, Les Merseys, Les 409, les Lutins etc. There was quite a scene going on in Quebec. In St-Jerome alone there were well over a dozen working groups, it was sort of little Liverpool.
The Eyes of Love
Astérix formed I believe in 1967. The band members were:
Francois Corbeil On Vocals, Jean-Marc Prevost on bass, Serge" Sonny" Girard on Drums, the late Karol Dicaire on lead guitar, Richard Seguin on guitar.
Sonny Girard played in a band with the late George Thurston in 1965.
In late 1967, Karol Dicaire was offered the lead guitar in les Revoltes who became le 25ieme Regiment. 25ieme.regiment .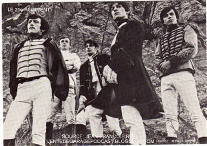 They later recorded several hits in Quebec. Including some french cover versions of Beatle songs.
The Sheep Dogs wanted to dump my best friend Marc and replace him with Daniel Poirier who was back in town. I was torn but The Sheep Dogs were not full filling my wants and needs. My old school boy friend Sonny Girard was in my opinion a better drummer. Jean Marc Prevost was a very good bass player. I came up with an idea. In early January 1967, Marc Delorme and I quit The Sheep Dogs and joined Astérix now named the Eyes of Love. We would now be 6. Three guitar players, bass, drums and vocals.
Two things happened in short succession. Firstly Marc and Richard became close buddies and they started to show up drunk for gigs. Both weren't very accomplished guitarists. Then again I wasn't that great either. Secondly Sonny, Jean-Marc and I went to a few live shows that influenced our decisions.
We saw Jimi Hendrix, a trio, We saw the Who, basically a trio with a vocalist. The same for the Troggs. I saw Cream, a trio. Montreal's Haunted had become a trio with a vocalist. It seemed that everywhere we looked we saw power trios. I was listening to Hendrix, Cream and british blues.All I saw were trios.
We made a hard decision. We fired Marc and Richard. I chickened out and asked Sonny to do the nasty deed. I still feel were badly about it. Marc had been a good buddy of mine.
We rehearsed as a four piece and found that we didn't sound any worse if not better.
Next we weren't happy with Francois. We wanted to find a better vocalist. We had seen a fellow named Sean Wallace from Hawksbury. He reminded me of Keith Relf. Logistics were not in our favor. Hawksbury was too far away. Then we tried something new. Why don't we sing. It turns out we weren't any worse that Francois.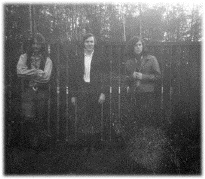 So the Eyes of Love became a trio in the summer of 1968.
Later that summer Jean-Marc Prevost our bass player was enticed to join STP sort of St-Jerome's Super group. It featured the late Rejean Ruel, keyboard and vocalist from le 25ieme Regiment.
The Eyes of Love then added Karl Desforges on bass.
The name became "Chain Lightning" from a lessor known Bogart movie.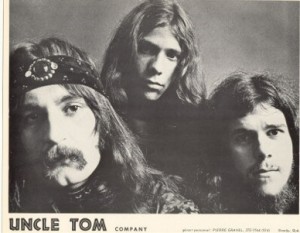 Soon under the management of "gunslinger" Pierre Gavel, the band became "Uncle Tom Company" then shorted to just "Uncle Tom"
Later Karl Desforges who was a drummer prior to joining us on bass left to play flute and sax. Today he plays keyboards.
After trying in vain to find a replacement we asked Benoit Toupin to join. The band became Isaac Bicker.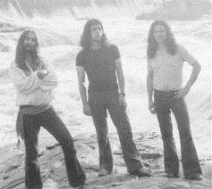 Isaac Bicker opened for Brownsville Station once. Both Ben and I played Marshall 100 watt stacks and Gibsons. Sonny had a double set of Ludwig's. We had an Altec Lansing sound system with Voice of the Theatre Boxes. Unbelievably we never had monitors. We played what I would call heavy blues. We were big Cream fans.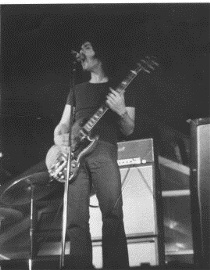 In 1972 I moved to Montreal with my mom.This led to a big change in my life. I basically wanted to break into the Montreal seen.
The band met with a certain Michel Noiseux who seemed to have more on the ball than Pierre Gravel. He was managing the Shaky Al Blues band which featured Jim Zeller the best harp player and Jean Millaire the best blues guitarist in Montreal.
He had me jam with the Shaky Al band and introduced me to Robin Harp. Before long Sonny and I joined the Robin harp blues band.
We later played backup for Eddie" the Chief" Clearwater. The gig was at "Cafe Campus" with the likes of Le Gros Pierre, Pierre Flynn, Pierre Senecal etc. all on stage.
We were a blues band but we were booked into Holiday Inns which caused a lot of friction. One night our bass play Steve Dobosiewicz sliced his hand just before the gig. He was out of commission for a while. Meanwhile I was disillusioned with gigging. I never wanted to play bars and hotels. I quit music.
I went on to selling and learning electronics. It was about 4 years before I was to return to live playing.
Al old acquaintance of mine brought me to see a wonderfully band named "The Pinups". It featured the undiscovered Sass Jordan on bass and Sean Donnelly on guitar . We just loved this band and attended all their gigs.
This re-kindled my interest in playing again. We soon formed a new wave band  "The Toons"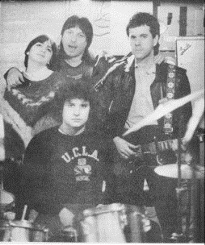 Sue Hlasny, Dominic Dicarlo, Joe the drummer and I.
Later Dan Babineau joined on drums. He had played with Danny Richler ( Mordicai's son) in the Alpha Jerks.
The Toons were a fun band where the members had different backgrounds. Sue was a concert pianist, Dominic was working on a theology PHD, Dan was into film making. I was only an electronics tech.
The alternative new wave scene was all the rage. After the short-lived Toons, I did some gigs with Dr. Charles, a stand up comedian and story-teller. We would play music behinds his stories and do a few old RnB classics.
From about 1986 to 2004 I played with Second Wind. I was the once who suggested that name. In the beginning it was fun. The band has such different influences that this eventually got in the way. From a rocking band we were becoming a bore at least to me. I basically lost interest. My day time job was taxing me. Also most of the members had recently gotten married or re-married within the same few years and you know what the old song says" wedding bells are breaking up that old gang of mine."
I am finally back at a stage in my life where I have the time to get back to playing live. Currently I working on a few projects including a Beatle band, blues and other stuff. I also did some recording projects with my old band "Second Wind."