The continuing story of Fackenbackers, Rickenfakers and Chickenbackers: the Rickenbacker copies.
The names Fackenbackers, Rickenfacker, Chickenbacker and now even Chinabackers all relate to knock-off and counterfeit guitars made to resemble the classic Rickenbackers used by the Beatles. Having been a Beatle fan since the Sullivan show, I have always dreamed of owning a set of Beatle guitars. I already had an old Hofner bass and a '66 SG Standard but I wanted to get my hands on a Gretsch Country Gentleman and a Rickenbacker like the ones Lennon used. The Gretsch Country Gentleman or Country Classic can be found at reasonable prices because Gretsch moved production to Japan. They also issued a lesser expensive line made in Korea.  Rickenbackers are still only made in the states and a lot of the process is still done by hand. Production is also relatively low. Used Rickenbacker prices have gone up & up. Where as you used to find a used one in the $1000 range, now expect to pay $3500 or more. Since I began my search I discovered that they have been and still exist several clones and knock offs. No-one to my knowledge has of yet compiled a list. This is what I have found out so far. I try to constantly update what I find.
Les Paul & Stratocaster guitar models are the most copied guitars ever. This is due to their long-established popularity.  Rickenbacker copies are very rare. Other than John Lennon, George Harrison, Tom Petty, how many Rick players can you name? Another reason is that Rickenbacker vigorously fights to keep copies out of the USA and updates they patents on the design. Doing this, they have kept jobs in America and the quality controlled. They even go as far as trying to prevent people from selling their used copies on Ebay. Rickenbacker is also the only manufacturer that I know who refuses to let retailers advertise their pricing. I have issues with someone who doesn't want to display their prices.
The 320, 325 models are ¾ sized and after playing Gibson and Fender guitars for many years, the Rickenbacker ¾ feels a bit flimsy but the tone variety is amazing. The prices are relatively high, but if you factor in inflation, the price is about the same as what a good guitar cost 30-40 years ago. The difference today is that we have many more products competing for our dollar.
Although there were some copies made in the 60's the best were made in the 80's and 90's, the so-called lawsuit years.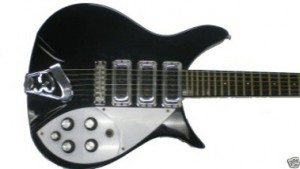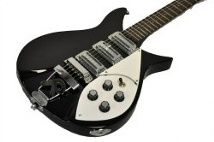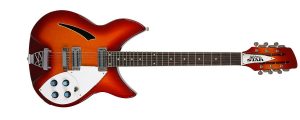 Guitar players are not unlike any other part of society. We see our idols owning dozens of guitars and we just can't be happy with 1 or 2. When I was about 21 years old I already had 3 Gibsons  and two of them were Les Pauls. I always wanted a Strat. I eventually bought a  Contemporary Strat by Fender Japan.
I set out on a quest to see if I could get a Rickenbacker new or used for a reasonable price. At the turn of the millennium you could still find a 325 or a 320 for around $1000.00. I missed the boat. While searching I discovered that there were or had been quite a few copies out there and more in my budget range. Further more some of these copies were excellent guitars. They showed up in Great Britain, Australia and in eastern Europe with such brand names as Jet, Eagle, Rockinbetter and Rebelrocker. Most of these appear to have disappeared from the market. Some Russian sites still display Jets but this may be old stock. Currently ( 2018) The Chinese seem to be the only source for Rick copies. The Chinese too are probably trying to avoid law suits, so the make Rick copies with exaggerated shapes. Some Chinese copies use tune-o-matic type bridges , Gretsch like pick-ups and other strange parts.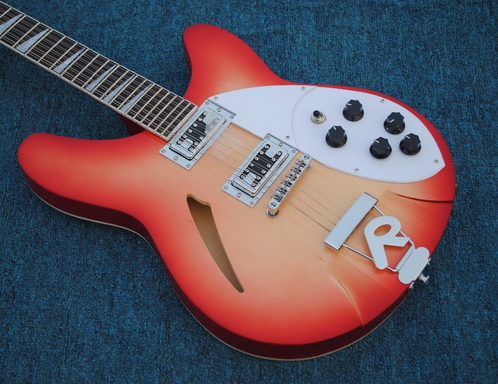 Custom branding of products has always existed in electronic industry. Manufacturers in the Far East will offer distributors products which can be branded with the buyers own brand name. Because of this you'll see numerous similar guitars with different brand names.  I have seen the same older copies branded Agile, Tokai, Dillion, Jet, Riff, and Galveston etc. I somehow doubt that there are 4-5 factories churning out these marginal models. The general opinion is that these copies look and sound very good. That is why Rickenbacker is so committed keeping them out of the USA.
Here we have probably the weirdest copy that I have ever seen. Rick body, Gretsch like pups, Fender Jaguar tail piece. I might have missed something else. At least the bridge look Rickish. Very strange indeed.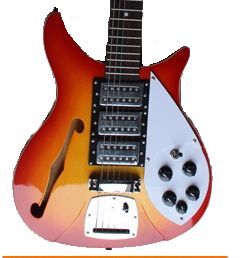 From user reviews and lots of research it would appear that Tokai, Aria, Greco, Fernandes and Jay Turser made the best ones. Tokai may still be making these but they appear no longer branded Tokai. You can imagine that when researching a product  considered illegal and counterfeit, getting accurate information is extremely hard. Tokai, Aria and Greco were all involved in legal battles in the 1980's with Fender and Gibson amongst others. Apparently the copies made back then are considered by many to be better that the originals. The prices for these babies are going steadily upwards.
We have also seen the Rickenbacker copies with such brand and model names as Wolf, Fernandes, Encore Series 10, Silver-Star, Tokai, Galveston, Jet, Eagle, Tanglewood, Hutchins, Riff, Michael Delsey Designs, Indie, Greco, Aria Pro II, Dillion, Degas, Agile, Jay Turser, Norwegian Wood, Rockinbetter, Rebelrocker, Aspen, Bradley and others. Some of the cheaper models had bolt on necks unlike the originals. From what I've seen, Greco made some of the best looking ones.
In the 1980's better copies were coming out of Japan. The Japanese had a knack for copying and they started to come out with more unique models.  The majors started to realize that they would miss a major chunk of the guitar market if they could not lower their costs. Fender started making the Squire line in Japan. Then Fender Japan appeared. Gibson made guitars in Japan Under the Orville name. Here too some of these older models are in high demand. Within a few years we started to see Mexican & Korean ones.
Rickenbacker has rarely gone this route. They did make a student line in the early sixties, marketed under the name Ryder and Electro. They were similar to the 425 model. They also authorized Chandler guitars to use a rick looking design.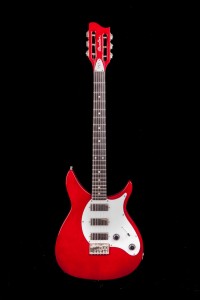 With a limited production, the cost of a real Rickenbacker remains high. Now there are people out there who buy fakes and augment them with real Ric parts. So some unscrupulous person may try to trick you. Be forewarned. There are several ways  tell the difference is that Rickenbacker necks are set, not screwed on although the better copies also have set necks. The the fret boards on the real Rickenbacker's are a red cedar looking color. See below. Then there are the tail pieces.
Most fakes often have a strange squiggly design as seen here below or the tilted R. The Chinese makers seem to have taken a liking to the R type.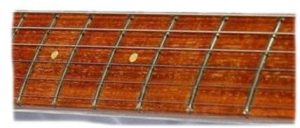 Up until recently I had never seen a clone with a fret board this color. Times have changed because it seems the Chinese are now making some with this color fret board.
While researching copies with the URK300 part number, I found the source. The Un-Sung Musical Instrument in Inchon Korea who manufactures guitars for Gibson, Epiphone etc and marketed the models URK300, URK500 and URK512 under the Silver Star line.
The URK512 and the Tokai Rebelrockers are copies of the Rick 330-12 and not the 360-12. It seems that only Fernandes and Greco copied the 360-12 with the triangular inlays and the neck attached closer to the edge of the body.
To see the differences between the 330 and the 360, please consult my Beatles Fab gear page beatles-fab-gear page.
Far East manufacturers will brand their guitars with whatever name the importer wants. That's why we have the same Guitar with numerous brand names yet most use the same part number. In Russia they were branded " JET", in Scandinavia " Eagle". The Russian one sold for around $ 400.00 US while the Swedes paid double for the same guitar.
Lately there are a slew of Chinese forgeries and by forgeries I mean guitars being sold as the real thing, complete with fake name plates , serial numbers and documentation. Some of these Chinese retailers will use real Rickenbacker pictures or pictures they downloaded from Ebay claiming these are their products. Lately then refer to these copies as "Ricken, Rick  or Riken" guitars. They also produce counterfeit Gibson, Fenders, PRS, Gretsch. They white-out the head stocks to hide the Rickenbacker name. Many times they use descriptions that makes no sense as they have no idea of what they have written . An example could be a description saying 12 string guitar with a picture of a 6 string and something like "hardly used".  BE AWARE!!. You can see these models at Ali-express. and D.H. Gate web sites. There are other sites where they claim they will  custom make your Rickenbacker copies along with other models and makes. One of these is rare electric guitar . If you try to access this site and you have proper virus protection installed, this site should be blocked. If it is not blocked then look into getting proper virus protection. Another site that should be blocked is China Cheap Guitars. Beware of these sites.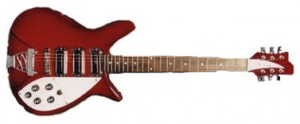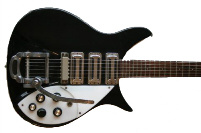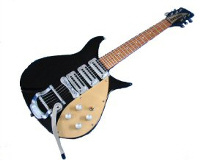 Here are some of the latest offering form a well know Chinese site. Notice the tune-o-matic type bridge. The pups are more rick like.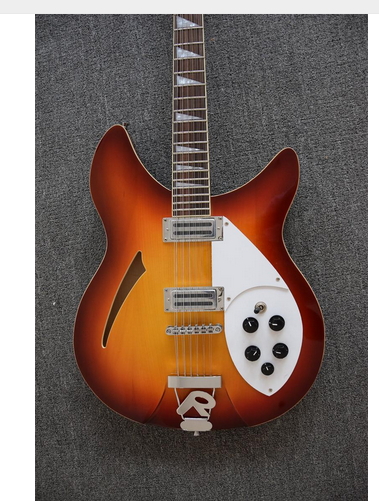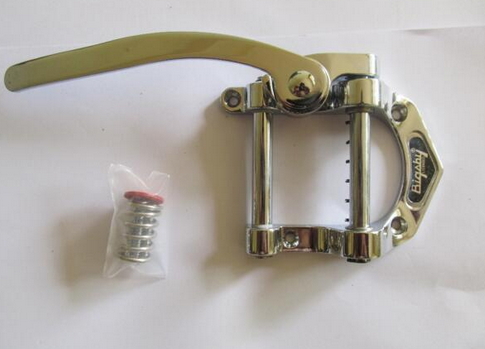 Here are some differences seen between the real ricks and the copies. Notice the placement of the necks and bridge pups.
Recently there are Hofner counterfeits being sold on Chinese sites complete with Hofner cases.
Here are some pages from older far-eastern catalogs boldly displaying the clones.
Here are just some of the brand names we have found.
Along with the guitars the Rickenbacker bass model 4001 used by Paul McCartney has been the target of copies. He used this type on stage with Wings.
Looking for more information on Beatles' guitars and amps? Check out my Gear page http://www.guitarandbeyond.com/beatles-fab-gear/
SEO Services