There are thousands of Beatles tribute bands, in many countries, all over the world. Here are the some of the best. We discuss the gear, look and formula that most of these groups follow. I also created a pseudo " Beatles tribute bands for dummies" guide.
Half of the Beatles have sadly departed this world. They last performed live on a roof top in 1969 yet their music still thrills us. We can still listen to their music and watch the movies and videos.
Paul & Ringo still perform but nothing can replace seeing all the Beatles live or can it?
Back in the summer on 1978 in some roadside motel room somewhere in New Hampshire on old Route 1 and I saw an ad on TV for a show at the Winter Garden in New York City. Four guys were dressed and looked  like the Beatles and sounding very close to them and playing live. If want to read about the show and the cast click on this link. The many casts of BeatleMania the show.
They actually made a movie of the Broadway show. It can be found on YouTube. Beatlemania the movie
Within a year or so the show, Beatlemania, was on the road. I saw the show several times in Montreal and can hardly describe the feeling. The guys (there were several different groups) did a splendid job. I got to meet Mitch Weissman and the late Michael Palaikis from the original Broadway cast. It was cool to wear Beatle boots and narrow ties again.
Since then and many more Beatlemania tours, bands have formed in many cities and countries, bands devoted to keeping the magic alive. I've had the pleasure to have seen some of the best and I have listened to many others. Although most of these bands have look-alike members, same instruments, same amps and clothing, it isn't a perquisite to playing good Beatle music.
One of the best sounding and longest running bands are "1964 The Tribute". I first saw them in 1984 at McGill University's student union. I last saw them in Burlington,Vermont
They sound exactly like the Beatles. Listen to their sound clips on their site. These guys have the music down to a tee. Every little nuance is there, the harmonies, the instrumentation. Also for guys from the USA, they all do a pretty mean Liverpool accent. I eventually got to meet Mark Benson the fellow that plays John Lennon. Saying he is a great guy is putting it mildly.
Don't miss this group. Sadly their great Paul McCartney stand in, Gary Grimes passed away in December 2010. Mac Ruffing is doing a great job as their new Paul..  Robert Potter on drumming doing a great Ringo and Tom Work who does a great George Harrison.
Replay the Beatles Montreal best Beatles band.
John Oriettas plays a great Paul. Rocky Gallo plays a great Ringo. Rocky has played all 4 Beatles at one time or another.
The British Invasion. I met these guys at Epcot. These guys know their Beatles and sometimes switch around so John sometimes is Ringo etc. John Babcock played Paul at that time. The current Paul is Paul look-alike,Davey Justice. Sadly Epcot no longer features a pure Beatles show. It was replaced with a British invasion show.
Shout     are from Michigan featuring Greg Gersabeck as John Lennon
Britbeat are from The Chicago area features Eli Echevarria as John
The cast of BeatleMania  features Lenie Colacino as Paul and Carlo Cantamessa as John.
Hey Jude The Tribute features Tom Raider as John.
The Cavern Beat from Chicago.
The Fab Beatles from England
The Bootleg Beatles   from England
The Caverners from Southern Ontario.
Another one of the best around. Their George ( Gavin Pring) and Paul (Ardavan Sarraf)  look the part. Gavin Pring is actually from Liverpool.
Help another home-grown Montreal Beatle Band.
Rain They too have blossomed into a two groups , a broadway show and a touring group. The touring group features none other than Jimmy Pou as George Harrison, a Beatlemania original member and a former member of 1964 the tribute.
Reunion Beatles They have changed the whole cast since they first appeared.
Studio Two These are one of the youngest bands around doing Beatles
Pardon the pun but Czech these guys out called  Pangea They are very good.
The Beats     These guys are from Argentina. If you are a Beatles fan give them a listen. Fantastic is not good enough to describe the recordings that they have done.
Zoom Beatles from Brazil are also quite impressive.
Let it be The musical  is currently touring. It's sort of an updated Beatlemania show.
4 lads from Liverpool  Another great California based band.
Them Beatles  They also seem to be on hiatus
Hey Jude the tribute from New York State
Britains Finest from Hollywood California
The Return from Atlanta
The Love Beatles includes members from France and England.
The Cast of Beatlemania who appear to be based in Mass.
A Hard days night.  This band is a bit of a mystery. They have a few web sites with the same Paul but different members as the other 3 Beatles. They are associated with Disney Land which could explain extra members.
Classical Mystery Tour  features very good Beatle tribute players on stage with a symphony orchestra. They feature Tony Kishman who does a knock-out performance as Paul.
Beatlemania now includes members of some of the other bands listed here.
American English Chicago based.
Liverpool legends appears to be more of a business that a band.
The Cavern Beatles from the UK
The Daytrippers another Vancouver band.
The Mersey Beatles These guy actually come from Liverpool so they may know a thing or two about the Beatles. From what I've heard on YouTube they are worth a listen.
Jimmy Pou ( pronounced Poe) has  expertly portrayed  the part of George Harrison for a long time. You'll see him in several Beatle Tribute bands.
Often these groups will exchange members to fill in, so don't be surprised to see the same fellows in several different groups.
Most of these bands may have one look-a-like member but no Beatles Tribute band has come as close as the original Mop Tops.
It featured Joe Stefanelli as John, Tony Kishman as Paul, Micki Milosevic  as George and Greg George as Ringo.
It's hard to keep up The list goes on. There are many many more out there.
Here is an extensive listing Beatles radio.
So what do you need to do your own tribute?
Here we have my "Beatle tribute bands" for Dummies guide.
The Broadway show Beatlemania still provides the blue print for many of the current Beatle tribute bands.
The show involves change of clothes and instruments and hair styles to reflect the look the Beatles had a different stages of their career.. There are 5 basic looks. This depends on a band's finances as there would be a huge cash layout in guitars and clothes.
There is the early Cavern club look. The boys all wear black vests and black trousers, leather if possible. John will play his unpainted Rickenbacker 325C58 .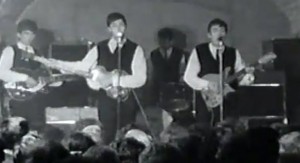 George plays his Gretsch duo jet. Paul plays his older Hofner 500 (the one with the two pickup close together nearer the neck).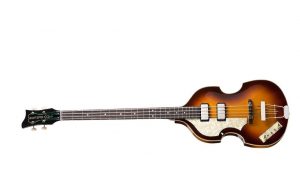 and Ringo could get away with the usual Ludwig Black Oyster Pearl 'Super Classic'.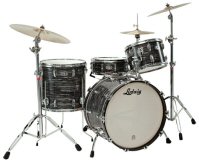 The hair is short and bowel like.
Then there's the famous Sullivan show look. Most tribute band go for this look. Paul has his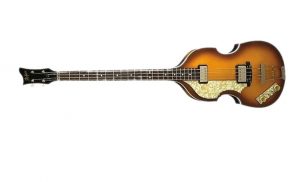 Hofner 500/1.
John's 325 is now painted black fitted with a Bigsby  vibrato and bridge. The pick guard is gold color and not two tiered. The knobs are Burns although they could be Hofner knobs.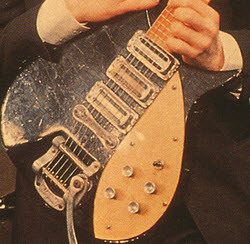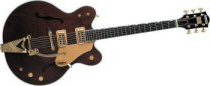 George has his Gretsch Country Gentleman and Ringo the Ludwig Black Oyster Pearl 'Super Classic'. They wear black suits with velvet on the collars. The hair is a bit longer , the classic look.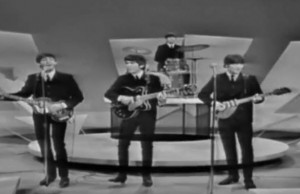 While on the Ed Sullivan show, Rickenbacker gave John a brand new guitar now known as the Miami
For acoustic guitars, Paul could have an Epiphone Texan and both John and George, Gibson J160's .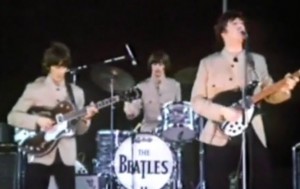 Probably the next costumes would reflect the Shea stadium look. Here again Paul has his 500/1 Hofner. John has a black Rickenbacker. George would have a Gretsch Tennessean. Ringo uses the same Ludwig. George would also have his Rickenbacker 360 12 string. The Boys would wear the so-called Shea jackets. If you don't know, they were khaki or beige military jackets that were inspired by the Jamaican police they saw during the filming of Help. The hair can stay the similar to the Sullivan look but a bit longer.
The next look is the Sergeant Pepper look where the Boys wear the marching band uniforms that appeared  on the album of the same name and on the video for Hello Goodbye. Here Paul plays a Rickenbacker 4003. George could use his psychedelic painted Fender Stratocaster, "Rocky". John could use his sunburst or natural Epiphone Casino. Ringo could use the hello-goodbye era drum cover. The hair varies in length but all have moustaches. John has the shortest hair having recently cut it for the Film " How I won the War, shot in Almeria, Spain. John wears his round specs.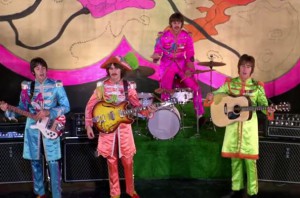 The last major look is the Abbey road/Revolution video look. Here Paul would play his old Hofner 500/1 with the pick guard removed. George could use a red Les Paul or rosewood telecaster. John would definitely use the striped natural Casino. Clothes could have Paul in black trousers with a suit vest. George black jeans with a blue jean shirt. John is usually depicted in the white Abbey road suit. Paul can either be clean-shaven or sport a beard. George would have long shoulder length hair with a mustache. Ringo has longer hair same mustache. John has long hair parted in the middle, round spec and is either clean-shaven or wears a beard.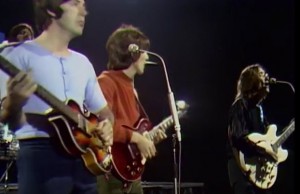 Of course there is the "Roof-Top" look. The Beatles performed their last live set on Jan 30, 1969. It was on the roof-top of their Sevile Row offices.
Paul is playing his trusty Hofner which is missing its pick guard since 1966. He has a sticker on it reading "Bass". John is playing his stripped Casino. George his telecaster. Paul sports a beard while John is clean-shaven. Ringo is wearing a red rain coat that he borrowed from Maureen.
John wore these types of caps on stage.
He had several caps, some made of leather, others cloth. You can find some copies on EBay.
The London Beatle store has a few
There is also John's Hasidic Rabbi look that I have yet to see any tribute band adopt this one. It was super cool.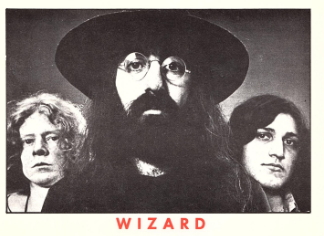 Harry Marks, who played in a Montreal band called Wizard ( not a Beatles Tribute) copied this look very well back in the 70's .
Beatle Amps
Amps can be an issue. Most tribute band will have John and George use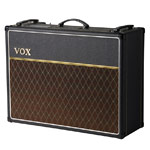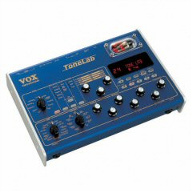 AC30's  with their Paul on a Vox T60 or Vox T100. The Beatles later used AC100 also known as Super Beatle amps.
"1964 the Tribute" uses Vox tone lab simulators. They were using the desktop model and now they use  the Tone-Lab SE model.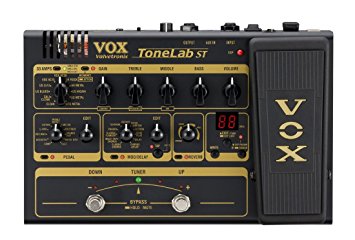 Their Vox amps are only props. The cases are gutted. This way they weigh much less and keeps transportation costs down.
Tone labs and tubes ( Valves) & Valvetronix amps.
The internet is full of great advice and information. It is also full of myths and dis-information. There are many articles stating that the tube(valve) in the Tone-labs are only there for show.
Here is my experience. I bought my desktop version many years ago and was never satisfied with its clean sounds. There was always a hint of distortion. Since tubes fail or weaken after years, I wondered if my tube was at fault. I had another used 12ax7 lying around so I swapped it out. Immediately I noticed a bit of improvement. I decided to buy a new tube and try it out. I had read that the Chinese 6n4 was an equivalent. This did not make sense to me but that is another story. So for $8.17 US with free shipping I took a chance. Well I couldn't be more pleased. I can now get a clean amp sound and it has also smoothed out the various distorted sounds. So if your Valvetronix device no longer sounds good , try a new tube. Yes the tube affects the sound.
Another instrument seen on stage with the Beatles was the Vox continental organ.
For a more complete view of the Beatle's instruments, visit my Gear page.
Beatle Hair
To create a better illusion (if that is what you are after), you should copy the hair styles of the Beatle that you are impersonating. Many a time an impressionist who does not look anything like the person they are imitating can make you believe that they are that person by  using the body language and facial expressions of the person he is trying to imitate. Having the correct hair will also help the illusion.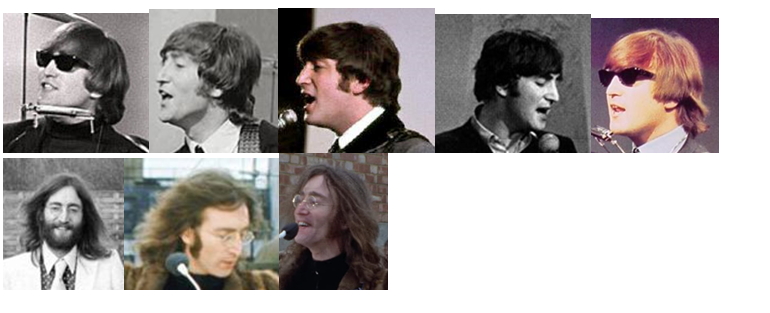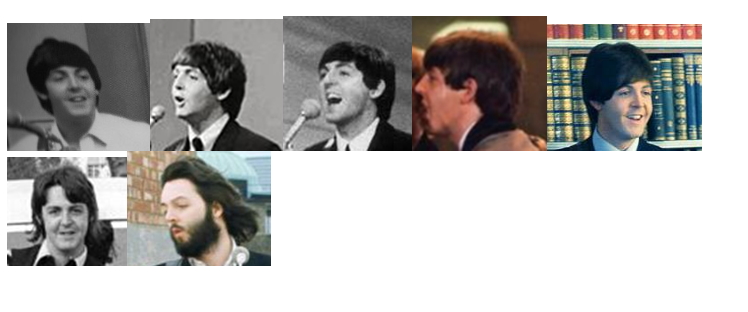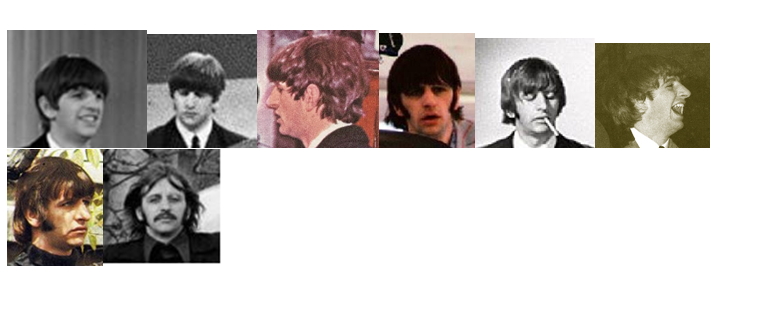 Each Beatle had his own look. In the early days you'd see some of their ears.
John's look are much different. His bang is not combed straight down but is combed across his forehead. He must have used hair spray to keep it there. His bang tends to cover his eye brows.His sideburns are exposed and are cut to match the bottom of his ear lobes. The sides are not at one angle but several ones.
Paul's bangs are arched. He has a bit of a part, almost like John's. The sides are at a angle at about 50 degrees. The bottom of his ears are exposed. In the case of all four Beatles the hair in the back is always over the collar.
Georges hair is similar to Paul's but his bang is somewhat straight across. Thing Spock. The front is combed straight down. Later George had his ear completely covered.
Ringo's hair bang are combed down but longer that Georges. Ringo's ears are almost always totally exposed. Later on he grows long sideburns with the rest about the same.
It always makes me wonder why some groups have such bad wigs. They spend 10's of thousands of dollars on having all the right equipment and suits. They spent a lifetime learning the tunes inside out but they can't seem to budget for a reasonable wig. Now don't get me wrong you don't need wigs, Gretsches, Hofners Rickenbackers, replica suits to reproduce the Beatle sound. Remember in the studio they used all kinds of different instruments.
Here are some of the better looking  wigs .
Outfitter Wigs  Some of the best tribute bands get their wigs here.
Try to get together with someone that knows how to cut hair and bring along pictures of the Beatle look you want to capture. Wigs can be cut. It might be easier to find a long hair wig and have it modified.
Boots & mess kits
There are real Beatle boots and all the others. Here are shots of the real boots. They have pointed toes and Cuban heels. The design comes from flamenco dancers. Some time we imagine that rock stars have designers working for them when all they have is creativity to use what already exists in a different way.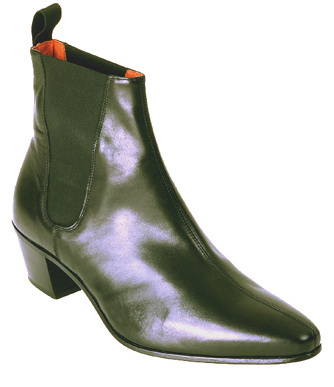 some boot suppliers are
Anello & Davide  The makers of the original boot
Beatle style  suits guitars etc.
To get the authentic clothing look go to Beatles suits. Without a doubt the best place for Beatle suits. Have a look at their clients list. You see just how many groups there are out there.
One other detail seems to be overlooked by many Beatle tribute band. This detail is very important for the complete illusion and that is how the Beatles held their instruments. 1964 The tribute, Rain, The Fab four all have that worked out. Many right handed Pauls actually learned how to play left handed. Many of the Johns have captured the way he strummed with his right hand and how he held his guitar between songs. The Ringos also hold their sticks like Ringo. It's all important if that what you want to do. There are countless videos of the actual Beatles on YouTube that there is no excuse.
Looking for Ab by the C?
The Beatles did lots of shows and if you ever tried to sing along you'd notice they all had a high vocal range. When they played the 1st Sullivan show they tuned down to Eb. They also recorded the 3rd appearance on the same date, so they were also tuned down. The second show was in concert A440. I can only guess that they did this to make it easier to hit those high notes. George was very sick with the flu. So much so that he passed on the press photo sessions and even on the rehearsals at Ed Sullivan's. It appears that they did tune down regularly.
Once you try to sing Beatle songs tuned in Eb you may never tune to concert again. Many Beatle tribute band tune down to Eb for the same reasons.
On a Budget
While authenticity is Divine sometimes we have to cheat. If the Beatles played Fenders and Gibson's you could easily have the Beatle look at a very reasonable price.
Let's look at Paul bases. There are many knock-off available including one made by Hofner themselves. It's the Icon series. Jay Turner makes the JTB-2B/VS. There are many close copies available. The same is true for his Rickenbacker bass. John's guitars seemed rare until I decided to research it. Please see the results on my Fakenbackers page.
Guitar and Vocal lessons
I was planning on doing some tutorials on how to correctly play and sing Beatle tunes but there are many good examples on youtube. Galeazzo Gale Frudua has some of the best vocal tutorials if not the best. Galeazzo web site. Another link is to learn some good examples of George's guitar parts ml swartz and his Beatle Guitar Secrets .